Unacademy CA Inter Batch Details
COURSE TYPE
REGULAR/ FASTRACK
VIEWS & VALIDITY
UNLIMITED VIEWS + 3/ 6/ 12/ 15/ 18/ 24 MONTHS VALIDITY
ATTEMPT APPLICABLE
NOV 2023 & ONWARD
MODE
GOOGLE DRIVE + MOBILE
REFER & EARN
5% OF LISTED PRICE (IN BANK ACCOUNT OF STUDENT)
CLASS TOTAL DURATION
600 HRS (Approx)
KIT CONTENTS
PLUS SUBSCRIPTION – NO BOOKS
ICONIC – HARD BOOKS FOR RESPECTIVE SUBJECTS INCLUDED
VIDEO LANGUAGE
HINDI ENGLISH MIX/ FULL ENGLISH (BOTH OPTIONS AVAILABLE)
DOUBTS SUPPORT
OVER UNACADEMY & Social.castudyweb.com
VALIDITY STARTS
FROM THE DATE OF PURCHASE
LECTURES CAN BE VIEWED ON
LAPTOP & MOBILE BOTH
---
Order Placement Methods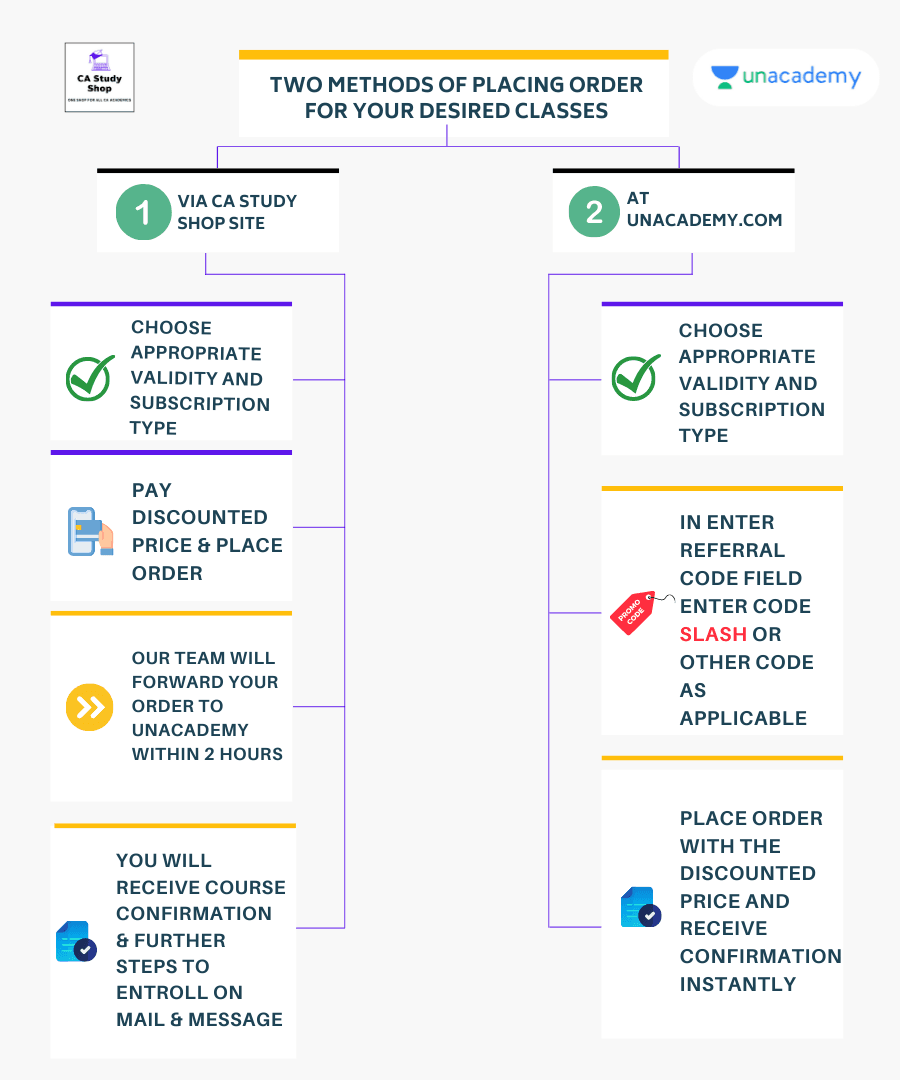 Frequently Asked Questions
What is Plus Subscription?
Plus Subscription gives you access to all live courses and quizzes launched every month within the goal you've subscribed for. Plus subscription is available for 1 month, 3 months, 6 months and 12 months.
What are the benefits of this subscription?
You will get access to comprehensive live courses and quizzes by top Educators. This will allow you to evaluate your learning and measure your progress. Additionally, you can participate in doubt-clearing sessions with the Educators and get your queries resolved.
Is there a limit to the number of courses I can access as part of this subscription?
There is no limit to the number of courses you can enroll in when your subscription for a particular goal is active.
Can I enroll in a course if it has already started?
Yes. You can enroll in any course before its end date. The class recordings will be available for you on the course page so that you can cover the missed lessons and quizzes.
Can I pay the subscription fee on a monthly basis?
Yes, we have EMI options available for all subscription plans. Once you have chosen your preferred subscription plan, proceed to payment and choose EMI as the payment option.
Can I download courses and watch them offline later?
Yes. After every live lesson, recordings will be made available for download. You can watch this later, even when you are offline.
What happens when my subscription expires?
When your subscription expires, you will no longer have access to your enrolled courses, study material and recordings. However, when you renew your subscription, you will get access to all your previously enrolled and active courses.
Why is the subscription paid?
The educators on Unacademy Plus are subject matter experts that put in a significant amount of their time and effort in preparing the courses, resolving doubts in the classroom and guiding you along your learning journey. In order to compensate them and to maintain the tech infrastructure that is required to conduct their live courses seamlessly, we charge a subscription fee.